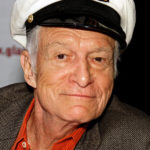 Hugh Hefner was born in Chicago, IL on April 9, 1926 to a conservative Protestant family. Well known as the Founder, Editor-in-Chief and Chief Creative Officer of Playboy, he has had a definite influence in society in the past 50 years.
While he attended Steinmetz, he was an average student, despite having an IQ of 152. He chose to focus on student based communications and causes: contributing to the school paper, writing, cartooning and serving as president of the student council.
After graduating from Steinmetz in 1944, "Hef" – a nickname her preferred from childhood – joined the army and served as an infantry clerk, and also drew many cartoons for Army newspapers. In 1946, after being discharged from the Army, he continued his education by studying at Art Institute of Chicago, the University of Illinois in Urbana/Champaign and Northwestern University. While studying at the University of Illinois, he drew cartoons for the Daily Illini, edited the campus humor Magazine Shaft and introduced a new feature called "Coed of the Month". He earned his bachelor's degree University of Illinois in just 2 ½ years. At Northwestern University, he studied sociology, focusing on individual freedoms, and wrote a term paper that examined U.S. sex laws based on Kinsey institute research of human sexuality.
After college, Hefner published "That Toddlin' Town", a collection of satirical cartoons about Chicago. He worked for Chicago Carton Company, Carson Pirie Scott, and Esquire magazine, and Children's Activities magazine.
In 1953, Hefner convinced friends and family to invest in his dream of starting his own magazine. The first issue of Playboy magazine was published in December of 1953, produced off the kitchen table of his south side apartment. Selling over 50,000 copies, the first issue made enough money to pay for a second issue…and the rest is history.
Hugh, being a pioneer for individual rights, established the Hugh M. Hefner Foundation in 1964. It is described on the foundation website as "The primary purpose of the Foundation is to support organizations that advocate and defend civil rights and civil liberties with special emphasis on those working on projects related to First Amendment rights and rational sex and drug policies."
Hugh Hefner still serves as Playboy magazine's Chief Creative Officer and Editor-in-Chief. He has also starred in television shows and films. For a full listing of his TV and Film career, visit Hugh Hefner at the Internet Movie Database
He married classmate Mildred Williams in June 1949. They had two children, Christie and David. They were divorced in 1959. Hefner married Kimberly Conrad in 1989, and had two children, Marston and Cooper. They were divorced in 2010. He is currently married to Crystal Harris, and lives in Los Angeles, California.
There is so much more to Hugh's story. Check out his full biography.
Fun Fact: Sylvilagus palustris hefneri, an endangered species of Marsh rabbit indigenous to the Florida Keys, was named in Honor of Hugh Hefer, for his generous donation via Playboy Enterprises to help save the species.
Feature Photo courtesy of Wikipedia
More links and citations about Hugh Hefner:
Playboy Enterprises (WARNING ADULT CONTENT 18+)
Hugh Hefner at Playboy.com (WARNING ADULT CONTENT 18+)
The Hugh M. Hefner Foundation
Hugh Hefner at the Internet Movie Database
Articles:
"Mr. Playboy: Hugh Hefner tells how he created an identity in order to fulfill his dreams". Time. Requires Subscription.
Hugh Hefner On His Role In Fighting Segregation. Jezebel.com (2010-07-23). (video)
"Playboy founder Hugh Hefner writes passionate plea in support of gay marriage". NYDailyNews.com
Photos: